Goen South Events is a full-service event planning Destination Management Company in San Antonio, Texas. With a well-curated team of award-winning experts in the fields of photography, videography, floral design, A/V systems, entertainment and DMC services, we execute creative design and logistics for events of all sizes. In the early stages of the event development, we assess and implement our client's vision. Our goal is to make the entire planning experience for our clients effortless, and to enhance the overall event experience for our clients and attendees. From the creative to the logistic, Goen South knows corporate events, and we look forward to planning yours!
Our Values
We founded Goen South in 1992, the world has changed dramatically since then. However the core values on which we have built our business have always remained the same. My father taught me to work hard, do the right thing, take care of your family and respect of the land and history of our beloved Texas. I instill these same values to our team every day. My dad was 57 when I photographed him, you can see in his face he worked hard his whole life. Even though he has been gone for many years, he is with me every day; I do my best every day to live by those same values. I promise you if you give us the opportunity we will live by these same values for you.
Morris Goen
Founder & Owner
Our Clients
Goen South has works with clients and budgets of all sizes. The firm has produced everything from large corporate events for over 2,000 attendees to small social gatherings for city officials. We provide personalized, hands-on services to all our clients, ensuring that their programs exceed expectations.
---
---
Awards
Antonian Awards 2016
Best Corporate Event – Budget under $75,000 – Disco
Best Event Design/Décor – Budget $25-50K – Luau
Best Entertainment Event – Budget under $50k – Luau
Best Event Filmography – Texas State Fair
Best Industry or Assoc. Event/Mo. Meeting – San Antonio Weddings Magazine
Antonian Awards 2015
Design Décor under $25,000
Esprit Awards
Best Social Event under $25,000 – 2015
Best Social Event under $25,000 – 2014
Texas Star Award
Best Event Décor between $25,000 and $75,000 – 2015
Best Wedding Event
– 2013
Best Corporate Event – 2012
Best Wedding Event – 2012
NACE Awards
Corporate Event Production of the Year under $50K – 2014
Corporate Event Production of the Year – 2014
Best Table Presentation of the Year – 2013
Professional of the Year – Morris Goen; NACE Alamo Chapter Awards – 2012
Why We're Different
We're from here, y'all. Goen South is locally owned and operated. We don't answer to a big corporate office a few thousand miles away. We work with clients to make sure they feel like every agreement is exactly what they need, and fits their vision and most importantly, budget.
We already own it. Goen South has two large warehouses containing the most unique rental and décor items in the area. From vintage wagons and tractor trailers to 7-foot wide crystal chandeliers and rare antiques, our designers are always on the look-out for cool, new finds. You name it, we've got it; and if we don't, we will find it!
We're connected. Goen South is a member of all major local and national industry organizations, including ILEA (International Live Events Association), NACE (National Association for Catering & Events), AAHA (Alamo Area Hospitality Association) and ADME (Association for Destination Marketing Executives). We pride ourselves on developing strong relationships with facilities, vendors, entertainers and caterers. We know that a successful event requires a successful team.
We love décor. We never produce the same event twice. Goen South's in-house florists and designers provide an upscale, signature look that is unmatched by any other DMC in the area – and we have the accolades to back it up. We stick with you. Goen South's sales team remains hands-on throughout the entire planning process. When event day comes, we're still by your side. We don't pass you off to another department. Your sales contact will remain involved in operations and available to the client throughout the entire program.
The Team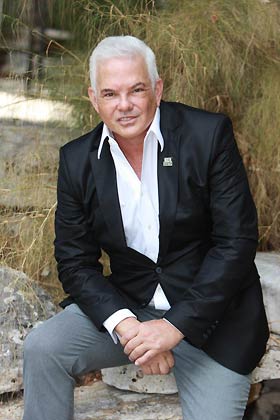 Morris Goen, DMCP | Founder & Owner